Mehndi design is the art of applying henna on both hands and legs. It is a temporary skin decoration using a paste created with henna. In the West, Mehndi is commonly known as a henna tattoo. Henna is brought from a plant to create a rich and temporary lasting color and can also be used to dye hair, nails, and fabrics. In India, it is a tradition to paint the bride's hands and feet in Mehndi for the wedding ceremony.
Usually, mehndi stain's cherry-red to brown color, but this can vary with time left on and other factors. Coffee, lemon, tea, and essential oils are sometimes added for texture, smell, or to help the stain. Mehndi started in the Middle East and Northern Africa over 5,000 years ago.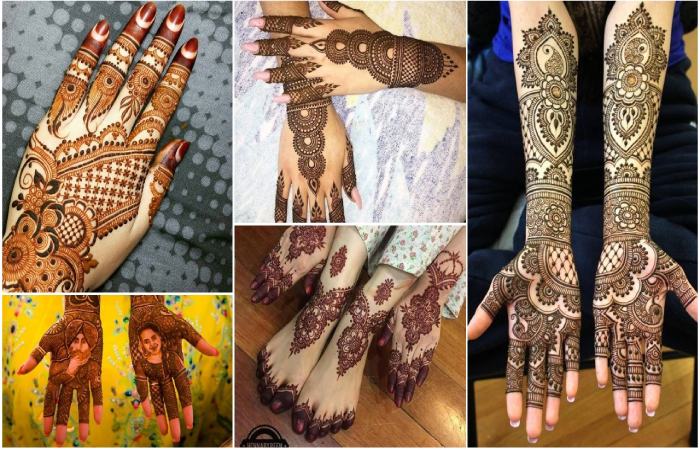 Without the mehndi ceremony, Indian weddings are incomplete. In every part of the country, the ritual of the mehndi ceremony follows, where the hands of the bride decorate with the lovely red color of the Mehndi. Most brides love applying traditional Indian designs on their hands on these wedding occasions.
How to Prepare the Mehndi Paste?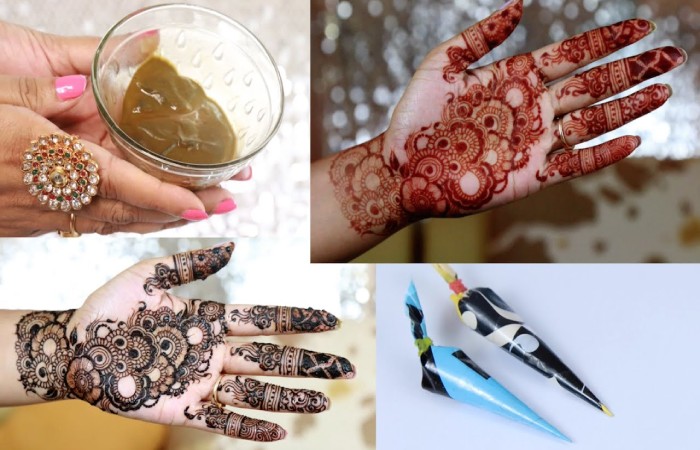 Here are the steps to prepare the paste to create your designs.
Step 1. Find the Ingredients
For this paste, you will need the following:
100g of henna powder. Please use powder specifically for the skin, as the hair is not powerful enough to color the skin. Please ensure the powder is fresh, as it loses effectiveness over time.
30 ml cajeput oil. You can also use other essential oils such as olive, mustard, eucalyptus, lavender, or clove.
25 cups of lemon juice
You will also need a glass bowl and a plastic wrap.
Step 2. Mix the Ingredients
To ensure no lumps mix all the ingredients thoroughly, use the plastic wrap to seal the paste so that no air is left. In contact with air, the paste oxidases, and that ruins it.
Step 3. Wait and Mix Again
Leave the paste at room temperature. Wait 24 hours or longer and mix again to eliminate the last lumps.
Step 4. Place the Paste Into a Sealed Bag
Fill the cones you want to use and place the rest of the paste into a sealed bag. Store the pack in the freezer. When you need it, melt it and have a fresh henna paste.
Types Of Mehndi Designs
Every culture has its means and style of applying mehndi. Some fantastic mehndi designs became trendy among all available designs. Here are different mehndi design that you can apply on any occasion.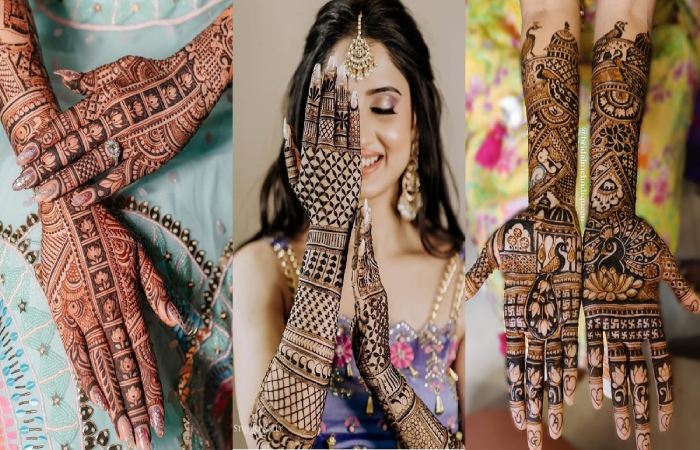 Indian Mehndi Design
Indian-style mehndi designs are already famous and stunning in design and style. For every age group, Indian mehndi designs have something to offer in their unique and intricate style. From front to back, there are some fantastic patterns in Indian mehndi design, including some prominent ones, i.e., florals, chequered dots, trails, and other traditional practices.
Arabic Mehndi Design
Arabic mehndi designs are modern but at a similar time exclusive. This type of Mehndi involves a mix of geometric patterns and floral artwork. This results in bold, beautiful designs loved by women worldwide.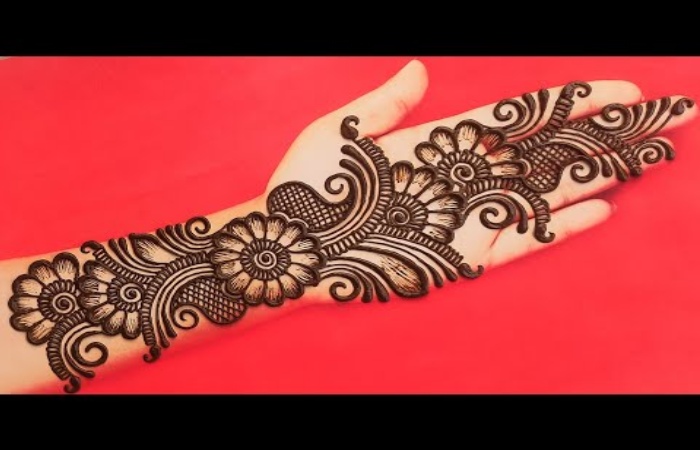 During bridal ceremonies, Arabic Mehndi is preferred by women because it is one of the most accessible types of Mehndi to apply. In addition, this type of Mehndi is simple yet very elegant.
Indo- Arabic Mehndi Designs
Fusion is an excellent way of bringing the best of two worlds together, and the Indo-Arabic Mehndi designs for hands are pretty good examples of fusion brought to fruition.
These fusion mehndi designs showcase the best Indian and Arabic designs. Indo-Arabic mehndi hand designs often pair Indian floral patterns and birds with Arabic cashew and shading. We don't know who started this trend, and we are glad somebody did!
Pakistani Mehndi Design
Pakistani Mehndi designs represent values and traditions, including leaves, florals, mosques, mandala designs, domes, and much more, like paisley patterns. It is difficult to frame as it has bolder outlines that look stunning when designed on hand.
Indo-Western Mehndi Design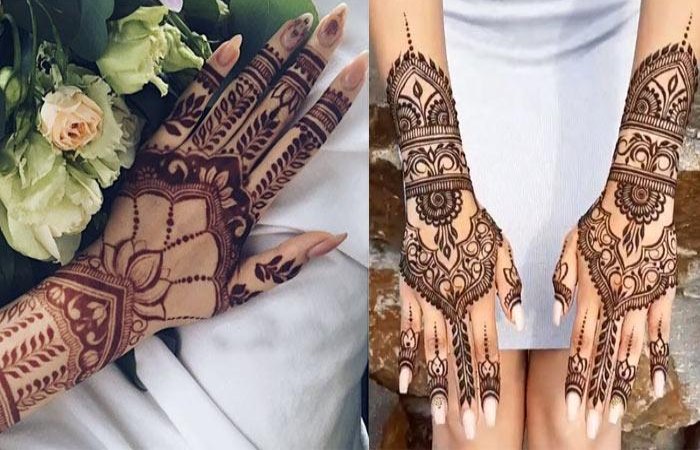 This Indo-western Mehndi perfectly fuses Indian and Western style mehndi design. Apart from the unique techniques and patterns, some other dominant designs include the short messages and long trails in Indo-western mehndi designs. So you can explore the broad range of patterns and styles available in this one to decorate the beauty of your hands. To get the best of both worlds in traditional and western mehndi design.
African Mehndi Design
African mehndi design is one of the predominant mehndi designs, which includes all the tribal patterns. It is similar to the Arabic Mehndi design, with empty gaps or spaces and bold borders and lines.
Jewellery Mehndi Design
This type of Mehndi is made to look like jewelry on your hands. It looks elegant with it is simple and minimalistic design. This type of Mehndi is trending nowadays among new brides-to-be. If you don't like too much artwork, then this is the design to go for. Another reason this type of Mehndi is trending is that these designs look so good on your hands that you don't need any authentic jewelry to go with them.
Western-style Mehndi Design
Western culture has also adopted the mehndi trend, which does not link with their culture or tradition. However, the henna tattoo in Western-style mehndi is getting immensely popular. From geometrical shapes to quirky patterns, contemporary mehndi designs are worth trying as they comprise all the patterns and designs.
Moroccan mehndi design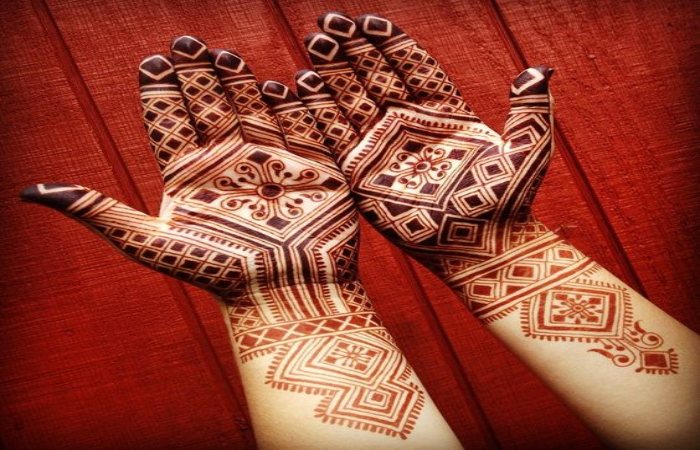 Moroccan mehndi designs are unique in their beautiful way, and the best part is that it is known for its unisex patterns. The geometric shape, lines, curves, and tribal designs, the Moroccan mehndi designs have their irresistible charm and beauty. Besides those traditional Mehndi designs, you can add this one to the best mehndi design and flaunt your hands.
Punjabi Mehndi Design
Most Punjabi mehndi designs include spirals, loops, circles, etc. Punjabi mehndi designs are unique and denote the culture very well. These designs give an excellent look to the design. Most of the designs also include many colors and glitters. These mehndi designs adore the heritage of Punjab.
Tattoo Mehndi Design
Generally, tattoo mehndi is easy for people who fear getting tattoos mainly because of the needle, the pain, and in some cases, the contagion. However, when you use Mehndi, there is no such thing. Tattoo mehndi design is a form of body art that is temporary. It can create on any part of the body like hands, legs, back, neck, stomach, and you name it.
Conclusion
There are many more mehndi design that you can apply to different functions. Other ways to use henna include dying clothes, hair, etc. Henna has properties similar to those of aspirin. That is the reason it is used for headaches. Unfortunately, Muslim men are not allowed to apply henna.
Each mehndi design of each culture represents something different. It is unique to that culture regarding patterns, bold or thin borders, where they are applied, etc. It is exciting to learn about new cultures.