What is a women's Texan boot?
Also known as country or western boots, the women's Texan boot is a type of footwear that never goes out of style. She became known thanks to cowboy movies, in which the characters always appeared with one of these on their feet. After that, this shoe model began to spread and gained women's feet.
In addition, the most striking features of the Texan boot are its embroidery, buckles and applications. And it is widespread for them to receive in their barrel several designs that make them stand out even more.
What are the positive points of the women's Texan boot?
Style is perhaps one of the main strengths of the women's Texan boot. It is a striking shoe with a lot of presence, adding to any outfit composition.
Another great advantage is that these boots have high durability. Most will make it of natural leather, a resistant material that lasts for years if properly cared for.
She is also very comfortable. The square heel gives more firmness to the feet, and they receive internal finishes that leave them soft and good to be used for hours.
The negative point is that the Texan boot has a high value, and the more crafted and differentiated it is, the more expensive it will cost.
What Pieces Of Clothing Do Women's Texan Boots Match?
The women's Texan boot is versatile and goes well with several pieces of clothing. It can will use in everyday life, work, parties, and shows, making any look more striking.
The item of clothing that she most matches with is jeans, but she also looks great with denim skirts and shorts. Wearing it with leggings is another good option, making the composition even more comfortable.
And if you think Texan boots don't go well with dresses, you're wrong. It is an accurate and stylish composition, mainly for parties and shows. To complement the look with these shoes, you can also invest in a hat and a belt buckle so the country look will be complete.
How To Clean Women's Texan Boots?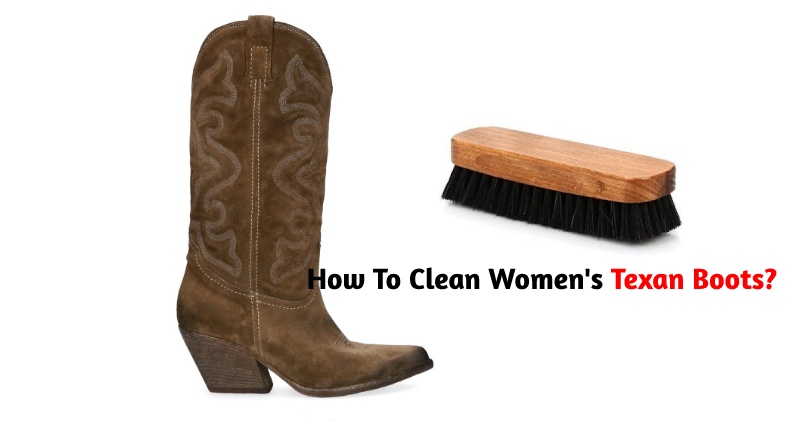 The women's Texan boot is resistant but must be, And this cleaning process is straightforward to perform.
If the boot is not very dirty, you can pass a dry or slightly damp cloth all over it to remove the dust. However, if the shoes have a more significant accumulation of dirt, the best way to clean them is with a soft bristle brush and mild soap.
After applying the product, rinse it and let the boot dry in a ventilated place, away from the sun.
What's The Best Way To Hydrate The Leather Of The Women's Texan Boot?
Traditional women's Texan boots will make of natural leather, a raw material of excellent quality. However, it is essential to hydrate it, so it does not develop cracks and become unsightly over time.
We can use several products to prevent this problem from happening. The leather moisturizer is one of them; it adds shine to the Texan boot and moisturizes the leather, guaranteeing excellent durability to the shoes.
The moisturizer is available in black, brown, beige and colourless and should be applied after cleansing, preferably once a month.
What Is The Correct Way To Store The Women's Texan Boot?
There is no point in adequately cleaning and moisturizing the women's Texan boot if it is not stored correctly.
With this, you should avoid storing it right after cleaning or if it is damp, as this act can lead to the development of mould in the shoes. Another care is with the long-barreled models; the tip is never to keep them folded, as this will mark the boot.
Also, always keep your Texan women's boots out of the sun and moisture; if you store them in the box, drill a few holes. TNT bags are good options for this too.
Purchasing Criteria: Factors To Compare Women's Texan Boot Models
Now that you understand everything about the women's Texan boot, it's time for us to help you choose a model to compose your look. For this, we must take some factors into account; they are:
beak type
barrel height
type of leather
embroidery model
Below we will detail each of them, so you don't go wrong.
Beak Type
The women's Texan boot will have three toe options: thin, square and round. All are very functional but give different aspects to this type of footwear. The skinny beak models are more sophisticated and elegant, matching very well with special occasions.
The options with square and round toes are more comfortable and geared towards everyday life, chosen by those who work with this type of shoe.
Barrel Height
Another issue to consider when buying a Texan women's boot is the height of your upper. The traditional options have a long barrel, but it is also straightforward to find versions with a medium or low barrel.
In addition to personal taste, consider that high-top boots are best suited for tall women and give a flattening effect to the silhouette for shorter ones. For them, the low-top options are the most suitable, while the medium-top boots are very versatile and can be used by all.
The weather is also essential when thinking about the upper of these shoes. This type of boot, unlike other models, is usually not only used in winter. So, analyze which one will make you more comfortable in all seasons.
Colour
In terms of colour, the female Texan boot does not leave anything desired. There are options in several shades; the most common are black, dark brown, light brown and beige. They are all very versatile; choosing one depends significantly on taste and how basic you want the boot to be.
The darker it is, the less attention it will draw, which is ideal for everyday use. However, lighter models stand out and can be great for special occasions.