Dan Post Dorsal Fish Men's Boots Handmade in Tobacco
These Classic Dan Post snake botas de pescado are 100% handmade. They are built with the best things to have the best walking experience. They are the option for those who know and appreciate a good pair of elegant and comfortable boots.
Brand: 01-Dan Post
Gender: Men
Pie: Fish
Height: 11″ Height
Insole: Removable Soft Strike orthopaedic insole
Sole: Leather
Toe box: Wide square
Heel: Stockman
Colour: Tobacco
Bota piel Botas De Pescado Pirarucu Rio Grande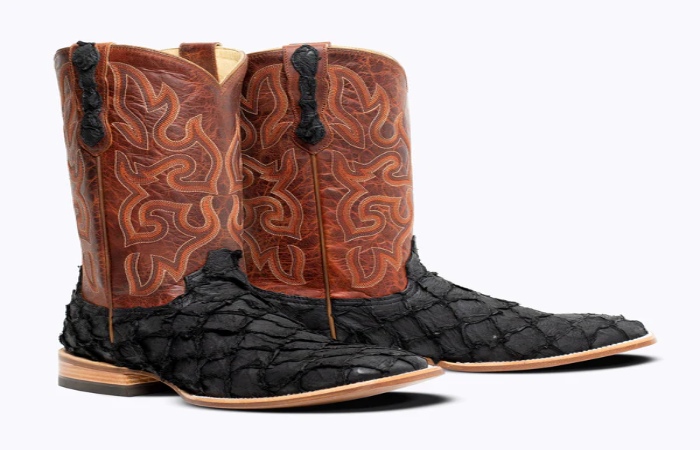 These handsome men's cowboy boots feature a stunning pirarucu etching that's soft to the touch yet durable. They have a broad square toe for greater comfort, western embroideries, and handle holes for better grip. Their leather sole makes them ideal for those important events, for the weekend, and to be the centre of attention anywhere! You go!
Pirarucu Botas De Pescado Rodeo Last Engraving Sand Color WD-290
Cowboy Boots for Men in Cowhide Leather with Pirarucu Fish Engraving
Handcrafted by Master Craftsmen
Delicate Cowhide Skin with Pirarucu Fish Engraving
Colour: Sand (Oryx)
Last: Rodeo Square
Cowhide sole
5″ inch high heel
Width: EE
Brand: White Diamonds Boots
Made in Leon, Guanajuato, Mexico
Model: WD-290
Rio Grande Botas De Pescado Model Fulton
Work boots with nylon cap, maximum safety without heavy boots, cushioned insole with ultra comfort system, double density work sole.
Material: 100% Genuine Cow Leather. This pair is one of our models with the most significant demand on the market, thanks to its super resistant and dynamic structure, both for days of intense work and adventure. So don't run out of yours!
Its tube has a construction of Waterproof Nylon fabric with a jungle camouflage design, in addition to an embroidered pattern in dark threads with a western invention.
Sole: Fulton double density in its sole, it has the best technology to enjoy every step you take safely. With Characteristics resistant to abrasion, oils, solvents, and slipping, in addition, to an insole that absorbs impact. Ideal for work in dry and semi-humid places. Asphalt and paved floors, warehouses and traffic. Of high fatigue to the feet.
Heel Type: Straight -With nylon safety cap, meets and exceeds safety regulations.
Due to its Goodyear Welt, double hand-stitched construction process, this method is widely recognized as the most elaborate and durable.
Approximate measurements: Boot tube height: 28-30 CM Heel height: 4 CM Calf circumference width: 37-39 CM.
Bota Trailer Plus de Rio Grande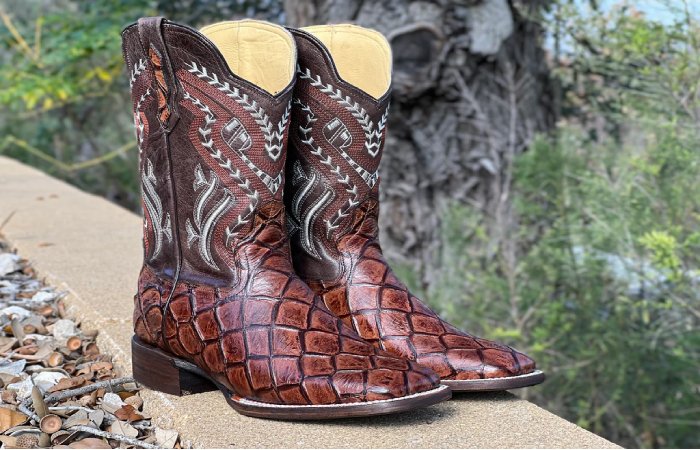 Cowboy boot, work and safety Trailer Plus from Rio Grande!
Maximum comfort on your feet for your day-to-day work thanks to its Great Comfort technology, present both in its removable, soft and flexible insole, as well as its multiple benefits that you will find in its RGW sole: Ultra flexible, Non-slip, Maximum durability, resistant to oil, gasoline, in addition, a straight and flat heel to walk for long days without stopping.
It is characteristic of all our Rio Grande boots.
Leather: 100% genuine bovine cut.
Lining: Res
Type: Cowboy Work Boot
Toe: Wide square with a protective helmet made of Certified Nylon.
Heel: Straight Height: 3.5 CM Approx.
Sole: 4×4 Rubber: Anti-skid, high resistance to oil and gasoline, chemical resistant, high abrasion, and resistance to high temperatures.
Great Comfort Insole: SOFT AND FLEXIBLE so you can love and relax throughout the day!
Tube: Western embroidery in threads that contrast with its excellent design. Height: 29 CM Approx.
Boot circumference: 37 CM Approx.
Tucson Rio Grande Rodeo Botas De Pescado
Rodeo-style work and western boot with an all-terrain tractor sole.
Type: Rodeo and Work
Boot -Toe: Narrow square (Pig's trunk type) WITHOUT ANY HELMET
Heel: Straight, height 4.6 CM Approx.
It has an Extra Comfortable and Padded Insole.
Sole: Tractor: DOUBLE TRACTION. (Resistant to chemicals, anti-skid, high resistance to oil and gasoline).
Roper Brown Botas De Pescado Rio Grande brand
Classic work boot model Roper, non-slip rubber sole, padded insole, boots ideal for use in any weather and terrain, ideal for daily use.
Material: 100% Genuine Cowhide Leather Classic Work boots with oval toes for men. They fit over jeans.
Manufacturing Process: Goodyear Welt, double hand-stitched. This method widely recognizes for being the most elaborate and durable—Rio Grande artisans since 1942 of the best international cowboy boot.
RGW Sole: Resistant to heat and abrasion, oil, solvents and slipping, resistance to water absorption, with cushioned insole for shock absorption. Top-quality stability and comfort.
Smooth tube, without closures, ideal for dry and humid places, semi-rough service, for use on asphalt, paved floors, mountainous stone, warehouses, traffic, construction, highway, ranch and farms.
Rodeo Botas in Genuine Pirarucu Leather
Rodeo boots for men in genuine pirarucu leather and bovine leather. The tube presents a subtle textured engraving, laser engraving of the block logo, handmade fabric and metallic application of the block monogram. With ears with arapaima skin. Removable polyurethane insole injected with gel grafts at impact points, covered with antifungal textile. Provides stability and comfort, as well as absorbing and cushioning impact—flexible rubber sole with non-slip TPU, resistant to abrasion and high temperatures.
Leather composition: Genuine arapaima leather and bovine leather.
Technique: Recorded.
Technique description: Using premium leathers allows us to create different finishes on them. In addition, we laser engrave our skins to capture unique textures and patterns.
Finish: semi matte
Heel type: Right
Building: goodyear welt
Cover: Bovine
Style: pro rodeo
Pirarucu Botas De Pescado Exotic Leather Boots
Cowboy Boots made of exotic Amazonian fish skin (pirarucu) Nobuck finish and made with Leather Sole and Goodyear Welt handmade reinforcement with embroidered tube and mounted on Dubai last. Fit: Goodyear Welt Interior: American Beef Lining Sole: 100% Leather and Stitched Heel: 100% Leather Trim: 100% Leather.
Cowboy Boots made of exotic fish skin from the Amazon (pirarucu) with a No buck finish and made with a Leather Sole and Goodyear Welt handmade reinforcement with embroidered tube and mounted on a Dubai last.
Quality: Goodyear Welt
Interior: American beef lining
Sole: 100% Leather and Stitched
Heel: 100% Leather
Border: 100% Leather
Helpful Resources
Neck Pain Covid – Sign, Treatment and More
Lauryncakes Utah Fashion and Beauty Blog
UM Optimization Manager Oscar Health