Kushal Fashion Jewellery is India's leading Fashion and Silver Brand. Famous for their distinguished designs with elaborate craftsmanship, they take pride in reinventing fashion jewelry for women. Kushal's is known for versatile traditional and contemporary designs, exceptional product quality, and magnificent stores.
Kushal's is a halt destination for jewelry for all occasions, whether old-style, formal, or casual because Kushal believes that any woman can be fashionable. As of Jan 2023, with 52 stores in 18 cities, Kushal's rapidly expanding its retail footprint throughout India. Kushal's currently operates in Bangalore, Hyderabad, Chennai, and Chandigarh, amongst other cities in India. Customers can also buy online at www.kushals.com.
Kushal's Fashion Jewellery is a Bangalore base Fashion Jewellery store. It is a chain of jewelry stores currently having stores in Bangalore, Chennai, Trivandrum, Vijayawada, Hyderabad, Ahmedabad, Mangalore, Mysore, Coimbatore, Chandigarh, Kochi, Hubli, Vizag, and Belgaum.
Currently, Kushal's is often given great wishes and praises by customers for making the "fashion jewelry" shopping an out-of-the-world experience. By the end of 2024, Delight the Beauty Kushal's chain of stores plans to achieve a pan-India presence. Some of the best designs of necklaces, earrings, and bangles we discuss below:
Latest Necklace Designs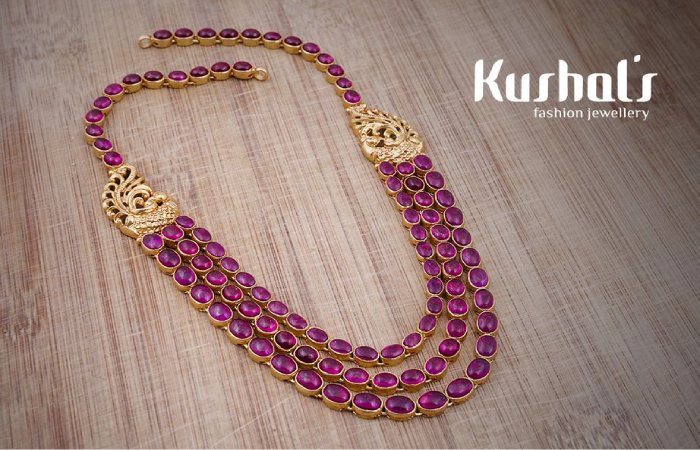 Necklaces: The Must-Have Jewellery for Women
Necklaces have been an integral, and quite a staple part of jewelry, whether for a bride's big day or her daily accessorizing. Make it a charming moment by styling and incorporating Antiques, 92.5 Silver Temples, Zircons, and more in all your festivities.
Antique Necklace Designs
If you're looking for simple necklace designs that are just as intricate, then antique jewelry may be just what you need. Antique jewelry is a great way to add a touch of vintage flair to your look. These pieces often feature elaborate designs with detailed craftsmanship that cannot replicate with modern techniques.
Silver Temple Necklace Designs
Silver temple jewelry is another popular choice among Indian brides-to-be. This type of jewelry typically features elaborate designs inspired by Hindu mythology and themes from nature, such as flowers, birds, animals, and even deities.
92.5 Pure Silver Necklace Designs
When it comes to silver jewelry, there's nothing quite like a 92.5 pure silver necklace that comes in simple necklace designs. This type of silver has been alloyed with other metals, giving it a bright white color and an incredibly durable finish that will last for years.
Latest Earring Designs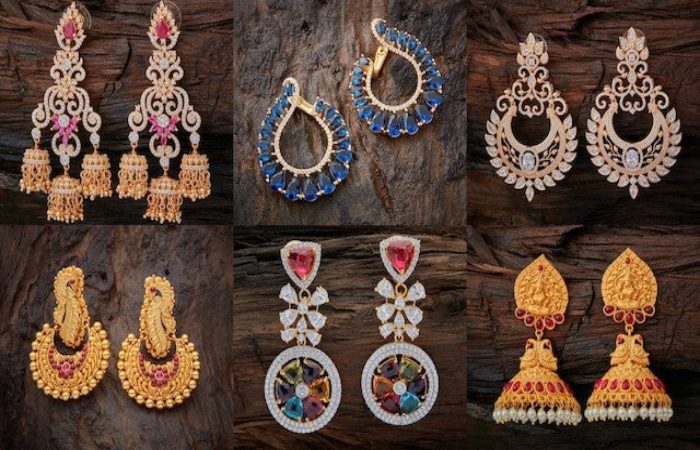 Jhumkas
Jhumkas are a traditional Indian earring style that women have adored for generations. These earrings dangle bell-like below the earlobe, creating a mesmerizing, elegant, captivating effect. At Kushals, we offer a range of Jhumkas made with exquisite materials like gold, pearl, and crystal.
Tassel Earrings
Tassel earrings are colorful and striking, with silk or synthetic strands that hang from a stationary point on the earlobe. They now also come in thin metal strings instead of silk strands. These earrings are perfect for business and social events and can complement various clothing styles.
Hoop Earrings
Hoop earrings are universally flattering and come in various styles, from thin, delicate and bold. They are versatile and can balance anything from a casual outfit to a formal suit. Hoops set with diamonds are an excellent choice to add sparkle to your look.
Cluster Earrings
Cluster earrings are designer stud earrings that feature a collection of stones or crystals grouped on the earlobe. They add a touch of glamour to your look and are perfect for casual occasions or travel.
Latest Bangles Designs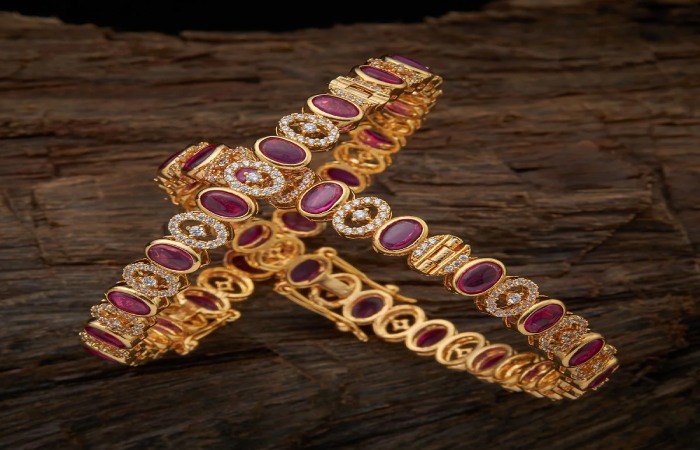 Bangles have been an integral part of Indian women's lives. Women of all ages have been adoring bangles for centuries. And now, even with the influence of Western style and looks, our love for bangles hasn't faded even a little bit.
Kangan Design – A Classic Choice for Every Occasion
Kangan is a traditional Indian bangle design that has been around for centuries. The bangles are usually gold or silver and are known for their simple yet elegant design. Kangan bangles are perfect for every occasion, from weddings to festivals, and they can pair with any outfit.
Latest Bangles Design – Embrace the Modern Trends
If you prefer modern bangle designs, many options are available online on Kushal's fashion jewelry. You can find a bangle to suit your style, from geometric shapes to quirky designs.
Fashion Bangles – Experiment with Colours and Materials
If you're a fashion enthusiast, you should experiment with different colors and materials for bangles. Fashion bangles are available in various colors, from bright and bold to pastel shades, at Kushal's fashion jewelry.
Meta – The Perfect Blend of Traditional and Modern
Meta bangles are a fusion of traditional and modern bangle designs. These metal bangles have intricate designs inspired by traditional Indian jewelry available at Kushal's fashion jewelry.
Radiate Elegance on Your Wedding Day with Kushals' Bridal Jewellery
Your wedding day is a historic occasion that you will adore for the rest of your life, and at Kushals believe every bride deserves to look stunning. A beautiful bridal jewelry set can raise your look and add a touch of glamour and elegance to your bridal outfit.
Their collection features necklaces, earrings, bracelets, and bangles, all intricately crafted to ensure you look your best on your special day. Whether you're looking for a modern, trendy, or traditional look, Kushal bridal jewelry sets have something to suit every taste and style.
Different types of wedding jewelry carry unique symbolic meanings for the bride, such as:
Necklaces: A symbol of love, commitment, and fidelity. It brings prosperity, joy, and luck to the bride's new life.
Earrings: Symbolize beauty and elegance. They highlight the bride's features and add that extra touch of glamour to her bridal look.
Bracelets and Bangles: A symbol of unity and commitment. They are thought to ward off evil spirits and provide protection against them.