A shoe rack keeps your shoes organized in a small space and makes your home neat and visually appealing. A well-designed shoe rack helps to enhance the use of confined spaces. A designated shoe rack makes it easy to find shoes to wear. A well-selected shoe rack ensures that shoes remain in good condition. It also encourages positive habits about keeping the home organized and tidy.
To keep your shoes original and wearable for years, storing them is also an important thing. Knowing how to store shoes correctly will help you keep your shoes looking good. So not only will you save money in the long run with fewer trips to the store to replace them, but also your shoes will look great for longer. When it comes to small spaces, Shoe storage can pose a challenge.
Organizing Shoes in a Small Space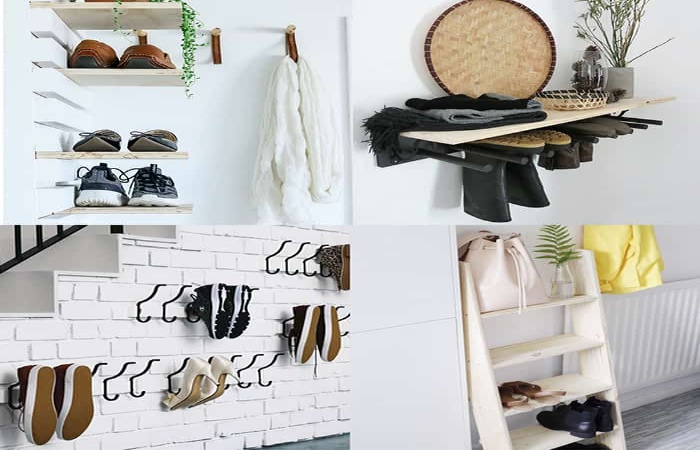 We have picked the brains of professional home organizers to learn how they approach small shoe storage, and we share some of the best shoe-organizing in small space ideas with you.
Declutter First
It should go without saying that when organizing small spaces, decluttering should be your first move. It is essential for shoes, one of our homes' most overbought and neglected accessories. Using a standard decluttering tip for clothing, start by taking inventory of your collection and sorting them into piles of ones you regularly wear and those you tend to leave behind, suggests professional home organizer, Britnee Tanner. A third pile should be reserved for shoes that are looking a little worse for wear.
Shoe Rack Design Ideas to Choose From
Shoe racks are available in different designs and sizes and are made of various materials such as wood, metal, plastic, or bamboo. Wood is the most common option as it easily blends with every decor. Depending on the space, you can consider a shoe rack with a door, without a door, or a sliding door. There are various shoe rack designs and types, such as hanging, vertical, or horizontal multi-tier shoe shelves and bench seat shoe racks.
Shoe Rack Design with Cubes
With designated space for each pair, a cube storage or cubby system makes it easy to keep shoes organized. A typical shoe rack is a cube made of wood with small compartments. The cube shoe organizers are apt for storing heels, flats, or sneakers. They can easily be stacked together and are easy to put together. You can opt for a closed or open shoe rack with cubes.
Use Multipurpose Furniture to Conceal Shoes and Save Space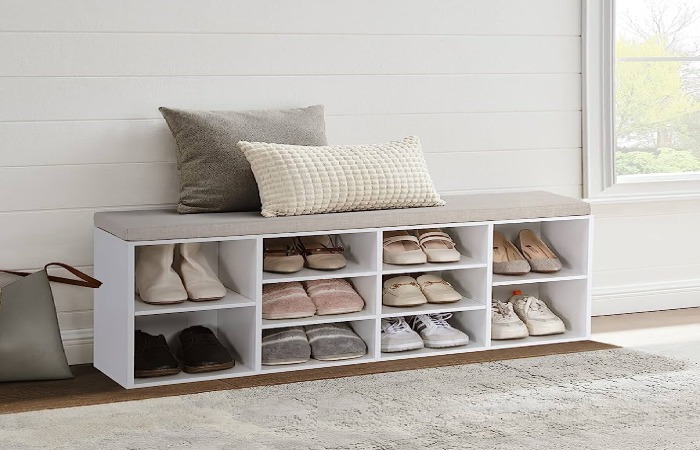 For a good reason, multipurpose furniture has been making its way into even the most high-end interior design in the last few years. These fashionable storage solutions contain clutter while offering something beautiful to your interior decor.
When decorating small spaces, a multipurpose ottoman or trunk is a great way to keep shoes in check without compromising on the need for intelligent seating – an essential you need in a home entryway or at the base of your bed.
Shoe Rack Design with a Bench
Multipurpose furniture units save space in style. Combination a shoe rack with a bench gives the wearer a space to sit comfortably, especially if you have shoes with lace or buckles. Shoe racks come with wooden benches with a shelf underneath. Add cushions to make it comfortable. You can also opt for a folding bench or keep a discrete bench beside the shoe rack.
Use Clear Stackable Shoe Boxes to Zone Space
If you work in a small space, adding plastic containers may not be the most logical solution. Still, stackable shoe bins and garages are perfect for preventing the unorganized chaos of a pile of shoes on your hallway floor. This closet organizing mistake uses more space than adding organizers. Try to find stackable, transparent shoe boxes that allow you to easily see the contents inside, making it easier to locate the pair you want to wear
Hanging Shoe Rack Design for Small Spaces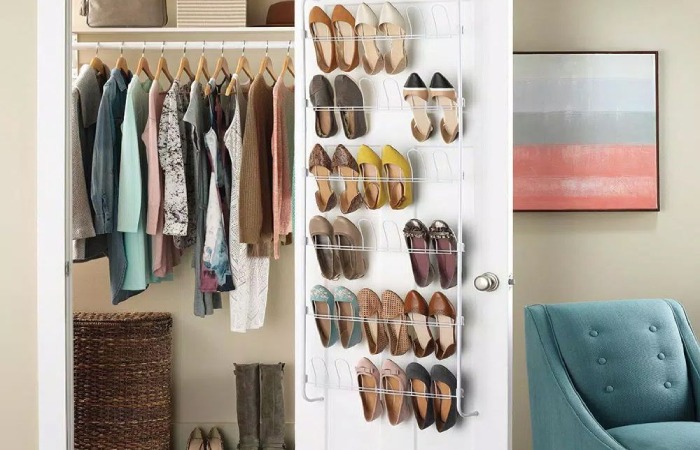 A shoe rack can be easily hung on any door or inside the closet. A straight-up fabric hanging shoe rack with cubbies is one option for utilizing limited space in a closet. Please attach it to a rod on one side for a designated shoe rack. These lightweight shoe storages are made of sturdy plastic sheets and contain multiple slots to organize the shoes.
Tilt-Out/Pull-Out Modern Shoe Rack Design
Today most homeowners prefer wall-mounted tilt-out/pull-out sliding shoe racks. Tilt-out shoe racks are suitable for contemporary and modern decor. The shelves open as pull-out or tilt-out drawers, providing frames for different footwear. So they are ideal for organizing many shoes and keeping them off the floor. Shoes tilt within the shelves for visibility and better display. These racks hold more shoes than the regular shoe cabinet of the same size. A tilt-out metal shoe rack (or custom-made in wood) is slimmer than standard shoe cabinets, making it an excellent option for narrow spaces.
Use a Slim Shoe Cabinet
As the number of small-space dwellers increases, so do the options for shoe storage on a tight footprint. A popular solution is shoe drawers, popularized by giant furniture IKEA, says professional organizer Jackie Pittman. The Hemnes shoe cabinet from IKEA does a fantastic job concealing shoes and streamlining a space.