Introduction – Trendy Modern Sleeves Design for Kurti
Trendy modern sleeves give a completely different look to your kurti design. In the past few years, the creation of kurtis has changed a bit. e it the collars, neck lengths, or Kurtis Sleeves Designs. For every occasion, you will find something eventful and unique.
Sleeves can make your outfits much more stylish, whether traditional Indian clothes or western outfits. Some designs over it can make it much better for you, whether you go for sleeveless or full sleeves. Sleeved designs make people more delighted and stylish too.
It can imitate designer dresses in another format, which is the best thing about sleeve designs. Most people focus on sleeve design more than their neck design. If you want a kurti with trendy modern sleeve designs, read this article until the end.
Trendy Modern Sleeves Design for Kurti to Try in 2023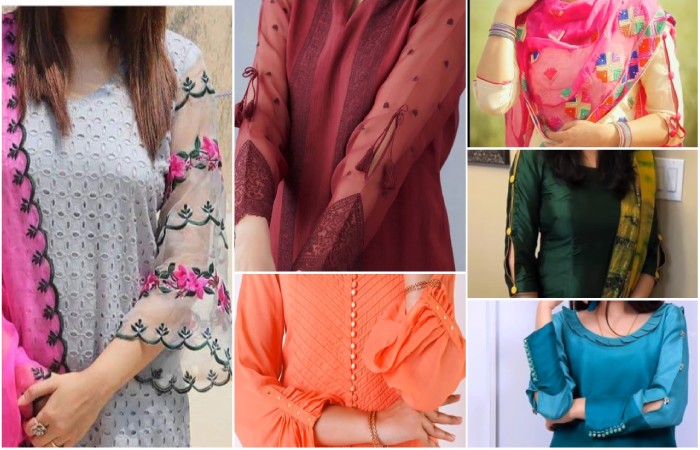 The trendy modern kurti sleeves design gives a modern look to the garment's overall appearance. So many women love to wear Kurti and wait for the new Kurti trend to wear it out. Kurtis is very classy and looks quite decent and beautiful.
Here are some of the kurti sleeve designs that are trendy in 2023. you can choose a few for your outfit to look elegant, stylish, and designer. For more Creative and Latest Sleeve Designs for Kurti you can visit Pinterest.
A simple bell umbrella Kurti sleeve design
Multiple Bell Sleeve Kurti
Keyhole sleeve design for Kurti
Bishop Kurti Sleeve Design
Cold shoulder Kurtis Sleeve Design
One-shoulder Kurti Sleeves Design
Off-shoulder Kurti Design
Net sleeves design Kurti
Flap Sleeves Kurti
Half sleeves Kurti
Embroidered sleeves
Pleated Sleeves
Balloon Sleeves Designs
Cut Fancy Trendy Modern Sleeves Design for Kurti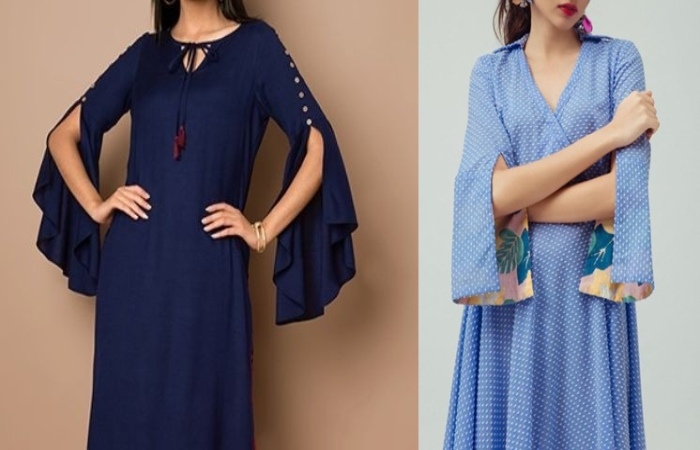 Cut fancy sleeves are a vital element of a fashion statement because of their wide variety of patterns and straightforward designs. Use pom-poms, buttons, tassels, laces, and pearl chains for cut decoration. You will never run out of ways to spice up your ethnic clothing with the large variety of available cut-out sleeve kurti styles. Cut fancy sleeves are never out of fashion.
3/4 Sleeves Design for Kurtis
As cut fancy sleeves never run out of fashion, ¾ is one of the most wearable and comfortable designs. Three-quarter sleeves are comfortable and best paired with shrugs. Shrugs can transform any look by hops and bounds available in long and short lengths.
If you are stuck about your kurti or kameez size, go for the three-quarter sleeves. To make it a little more interesting, add ruffles, tassels, and appliques, among other things.
Best Trendy Modern Sleeves Design for Kurti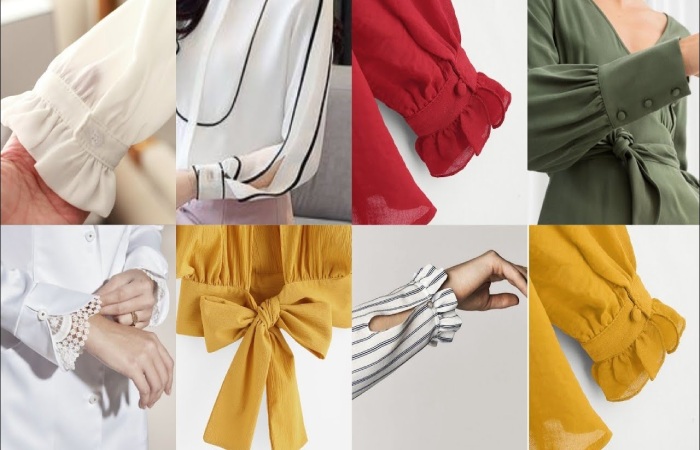 You can also try the best sleeve designs for kurtis, kurtas, salwar kameez, and Anarkali suits.
·       Bell Kurtis Sleeves Designs
These sleeves can make your hands looks good and gear up the full kurta. It is also simple and stylish, and It can give your kurta a cool look.
·       Slit Kurtis Sleeves Designs
Slit sleeves have managed to add a fresher length to the Indian kurti. With add-ons in the form of laces, tassels, pearl chains, and more.
·       Cap Sleeves
Get a cap sleeves design kurta in a fancy neck pattern like a boat or an off-shoulder neck. Pair a cap sleeve kurti with jeans, a palazzo, and a churidar.
·       Umbrella Kurtis Sleeves Designs
This sleeve gives your ordinary kurti a super elegant and classy look. Pair an umbrella sleeves design kurti with cropped cargo pants and pump heels. And don't forget to add a stylish sling bag.
·       Exaggerated sleeves
The Exaggerated sleeve design has picked up quite the motion this fashion season. This style will keep you cozy and fashionable in winter or summer.
·       Sleeveless
Sleeveless kurtis add youth and beauty to your collective. Wear Sleeveless kurtis with a shrug or on their own.
Types of Sleeves in Kurtis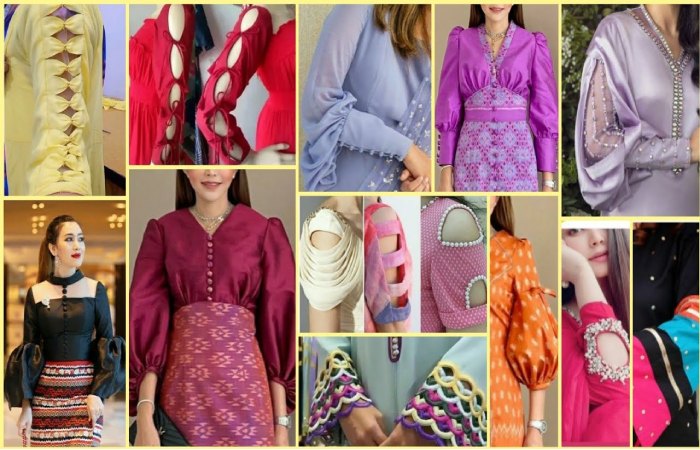 There are many types of designing your kurtis sleeves. Usually, it depends on the fabric. But these designs can be made from any material.
Set-in sleeve: It is attached to the garment's armhole and stitched around. Most sleeves, if not continuous with the bodice's fabric, are set-in sleeves.
Lantern sleeves: A lantern sleeve is a long sleeve that balloons out between the wrist and the elbow and then gathers again around the wrist.
Puffed sleeves: A puffed sleeve is assembled at the shoulder, and the layer is complete and "puffy" in the middle.
Dolman sleeves: It is a type of sleeve with a very deep armhole, and the sleeve gets finer and finer to the wrist. This type of sleeve is also called a batwing sleeve due to its likeness to wings.
Butterfly sleeves: Like a bell sleeve, a butterfly sleeve flares out from the shoulder but usually does not fully cover the arm.
Raglan sleeves: A raglan sleeve extends from a garment's neckline rather than the shoulder, allowing better movement.
Kurti Sleeves Design Name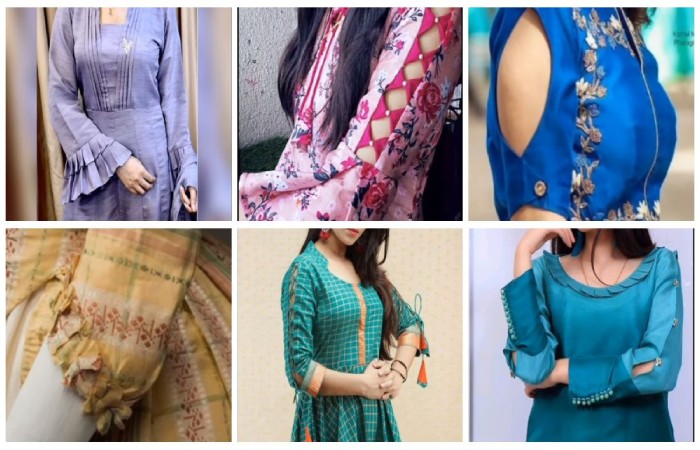 If you like trying new looks and want your kurti to pop out, try some eye-catching latest sleeve design options.
Full Sleeves
3/4th Sleeves
Half Sleeves
Sleeveless
Umbrella Kurtis Sleeves Designs
Bell Kurtis Sleeves Designs
Bishop Kurtis Sleeves Designs
Cold shoulder Kurtis Sleeves Designs
Flap Kurtis Sleeves Designs
Off Shoulder Kurtis Sleeves Designs
Flutter Sleeves
Cape Kurtis Sleeves Designs
Slit Kurtis Sleeves Designs
One Shoulder Kurtis Sleeves Designs
Pleated Sleeves
Balloon Kurtis Sleeves Designs
Net Sleeves
Cap Sleeves
Embellished Sleeves
Exaggerated sleeves
The end-cut sleeves
Conclusion
This article discusses some of the trendy modern sleeves design for kurti. Now you have all the information on various sleeve designs and styling with traditional or western outfits. Sleeves have a massive impression on your overall outfits. Grab your best attire according to your choice and give it a new new look with this trendy modern sleeves design.