Introduction
Bondi Sands Pure has taken natural self-tanning to the next level, producing a range that benefits all skin complexions. Whether you're looking to bring out your most sun-kissed skin or for a gentle glow. The Bondi Sands pure brand creates by Shaun Wilson and Blair James in 2012 in Melbourne, Australia. The brand's name is kept after Australia's most famous beach Bondi Beach.
The founders offered their products to the retailer Priceline In 2012, and they agreed to sell three Bondi Sands products. As of 202160 percent of the Australian market share is held by Bondi Sands. The Australian brand prides itself on its vegan and cruelty-free formulas. Which leave your skin streak-free and with a balanced brown type.
Is Bondi Sands pure-safe?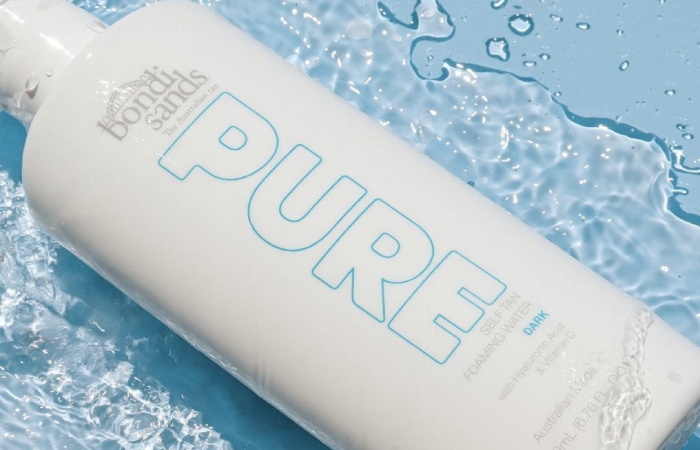 The product's formula is 100 percent recyclable packaging free of fragrances, sulfates, and dyes. Without compromising the stunning results, the brand is known for you can trust that Bondi Sand's' new Pure collection will give you a non-toxic tan.
The ingredients of Bondi Sands PURE Self-Tanning Drops, 1.35 oz/40 mL, are reviewed as skin-safe and are fragrance-free, hypoallergenic, Paraben, Topical Antibiotic, MCI/MI, Propylene Glycol, Dye, Gluten, Coconut, Nickel, Lanolin, Top Common Allergy Causing Preservatives, and SLS. The product is Teen Safe and Lip Safe.
How long does Bondi Sands pure last?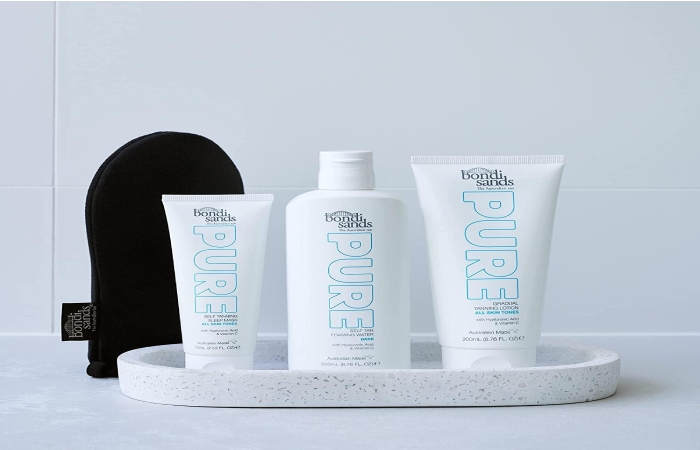 Bondi sands pure last between 5-7 days, and with good moisturizing and preparation, they can last even longer. However, at a different rate, everyone's skin naturally exfoliates. To help prolong your tan, Bondi sands Tanning Products are perfect. Bondi sands Tan ranges can wash off after just 1 hour, but for a more profound and longer-lasting tan, we advise avoiding swimming, showering, and being sweaty for 6 – 8 hours to let your tan develop fully on the skin.
So Bondi sands are excellent for the skin while prolonging your tan; they are enriched with antioxidants, aloe vera, and vitamin E and hydrate your skin. There are more tips to keep your tan looking fabulous:
limit time in the water
avoid rubbing/scrubbing your skin
shaving, waxing
hot steam bath/steam rooms
avoid any other form of skin exfoliation.
Can you use Bondi Sands every day?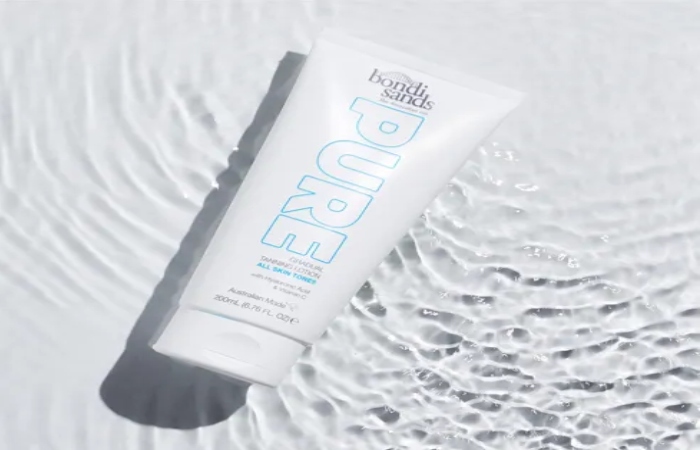 It is a personal choice, and it is about finding out what works best for you. You can apply once a week or once every two weeks. Bondi Sands is designed for daily use as a tan extender or a regular self-tanner; it is Developed with Vitamin E and Aloe Vera. Which gradual Tanning Foam nourishes your skin while giving you a golden glow all year.
For pregnant women, it does not affect them as it's typically only the top layer of the skin that's affect DHA. It is best to double-check with your doctor if you are unsure. To be extra careful, we recommend covering your nose, mouth, and eyes when applying to prevent inhaling the products. We also advise not to use the breast area if breastfeeding.
Bondi Sands Pure Drops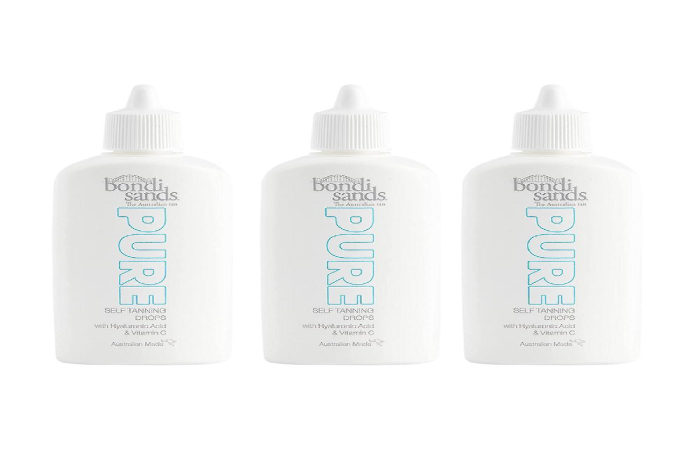 Bondi Sands Pure Self Tanning Drops combines our iconic golden glow with skin-loving Vitamin C for radiance, Vitamin E for repair, and Hyaluronic Acid for hydration. You can create your customized glow by mixing fragrance-free, colorless formula with your favorite moisturizer. Bondi Sands Pure Drops dermatologically verify and suitable for sensitive skin.
Bondi Sands Pure Tanning Drops should apply to dry and clean skin. Into your moisturizer, Add 4-12 drops of it and mix well; apply appropriately over your face and neck, avoiding your eyes. Ensure that you wash your hands properly after use and do not increase the drops; increasing the number of drops will result in a deeper tan.
Bondi Sands Pure Foaming Water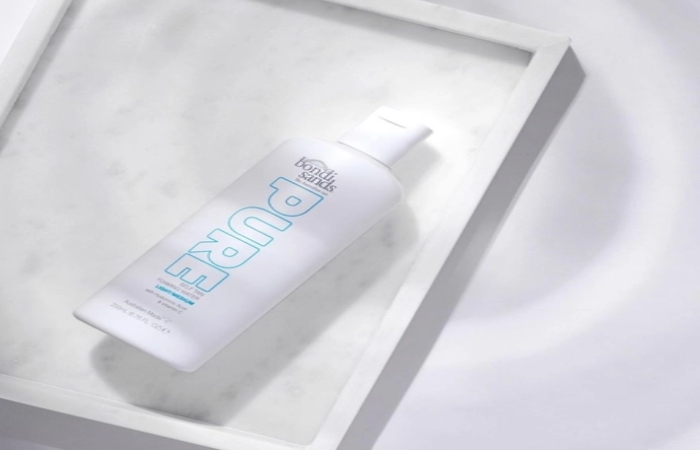 Bondi Sands pure self-Tanning Foaming Water combines our iconic golden glow with skincare-first ingredients. The colorless, fragrance-free formula is quick-drying, requires no rinse-off, and is gentle enough for sensitive skin. The lightweight formula features Hyaluronic Acid for hydration, Vitamin C for radiance, and Vitamin E for upgrading. Apply directly onto the skin. Use Application Mitt to blend using long sweeping motions.
Does Bondi Sands Pure stain sheets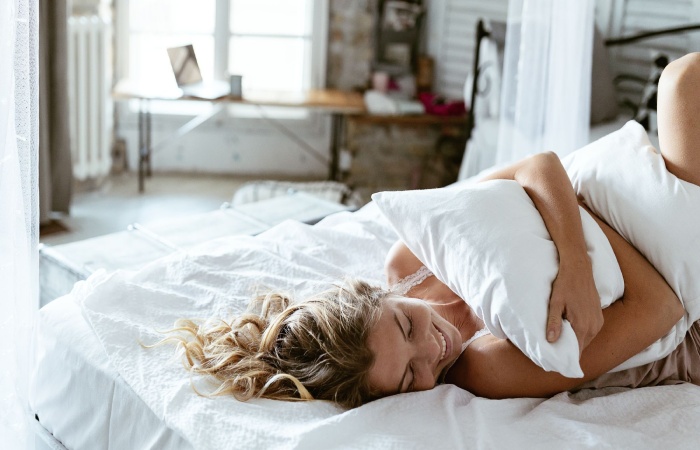 Most brands recommend letting your tan develop overnight, and since many come with a browning agent to make you look tan immediately. It can stain your clothes and sheets and imprint your body when you wake up next to you.
For ensuring no tan will color your sheets or clothes, MineTan's Invisible Color Self Tan Foam is the perfect product as it has no guide bronzers in it. It completely goes into your body; you can sleep in it or go about your day with it on without any cosmetic bronzers staining your belongings while it
Bondi Sands Pure Sleep Mask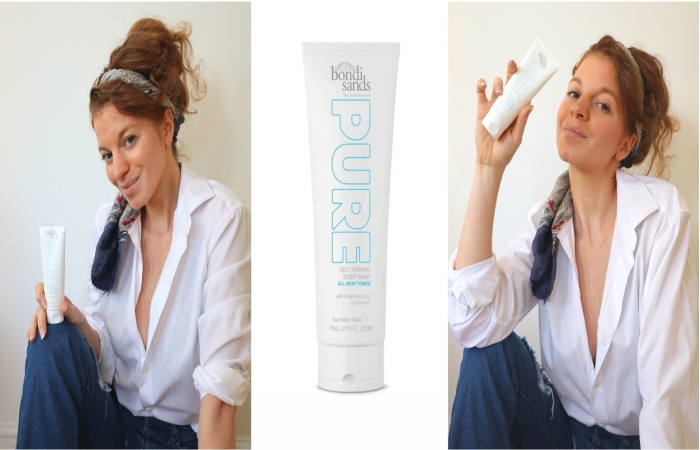 The self-tanning sleep mask from Bondi Sands creates the illusion of a sun-kissed glow. The fragrance-free formula senses effortlessly across your skin. Absorbing fast to avoid the risk of any heavy, sticky build-up existence left behind. Perfect for people looking for a radiant, 'just stepped off a plane' appearance, the refilling fake tan mask gradually builds as you sleep, revealing a glowing sparkle for when you wake up.
Conclusion
Bondi Sands Pure self-tanning oils, foams, and mists dry in seconds to reveal a rich, natural-looking tan that lasts between 5-7 days. Next time you're getting your glow on, make sure you don't leave out your face! For a complete guide to getting that perfect natural tan, check out "The Bondi Sands Guide to Self Tanning for Beginners," which reveals all tanning secrets.